Microsoft Computer Dictionary
Go to Windows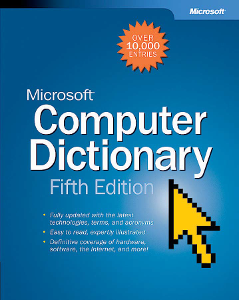 Microsoft Computer Dictionary
Publisher :
Microsoft Press
Summary
The Microsoft Computer Dictionary, is designed to be a comprehensive and authoritative source of definitions for computer-related terms and abbreviations. The dictionary includes terms drawn from a wide variety of topics relevant to computer users, including software, hardware, networking, data storage, graphics, games, information processing, the Internet and the World Wide Web, gaming, history, jargon and slang, organizations, programming, and standards.
Although this book "Microsoft Computer Dictionary" covers nearly every aspect of computing, it does not include entries on most companies or on most makes and models of computers, nor does it contain entries on most application software products.
The few exceptions to this rule of thumb are key companies and products that have a historical or universal importance within the computing industry.
This dictionary emphasizes terminology that the average computer user will encounter in documentation, online help, computer manuals, marketing and sales materials, the popular media, and the computer trade press.
Because most computer users operate personal computers and desktop systems at home, work, or both, the majority of the entries in this dictionary cover the terminology used in describing and working with these systems. However, some specialized or highly technical language is included that pertains to areas of industry, academia, software and hardware development, and research. These terms have been included because they have a bearing on more common computer terminology or because they are of historical significance.
Pages :
648
Edition :
5th edition
Collection :
Dictionaries
Language :
English
ISBN 10 :
0-7356-1495-4
ISBN 13 :
Updated :
16/02/2016
Microsoft Computer Dictionary Free Download
Online Bookstore where you will find all titles